In today's corporate environment, timely communication with staff, customers and channel partners is more important than ever before. With shortened product life cycles, worldwide trade and reduced travel budgets; old models just do not work.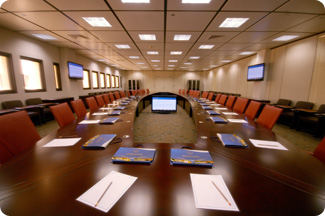 The Internet is a great solution. However, the challenge is how to produce the vast amount of engaging, high quality content required and to publish that content online, quickly and economically.
Microsoft PowerPoint is a great starting point. It is a tool that everyone knows how to use and its powerful narration; animation and interactive capabilities make it a great product for producing rich learning content.
Problems arise when you want to publish your PowerPoint content to the Internet. The files are too large, the end user must have the right software installed and, even then, you often cannot retain both animations and narrations - a must for good message retention.
Many corporations and government agencies are using Impatica for PowerPoint to create online content, provide staff training, corporate communications and marketing messages:
Impaticized PowerPoint files are typically about 10% of the size of the original PowerPoint file.
Delivery is truly cross-platform, completely eliminating the need for plug-ins or other software on the recipient's computer.
Impatica OnCue takes PowerPoint to the next level, enabling the rapid creation and delivery of PowerPoint presentations synchronized with video and a scrolling text transcript. Other features include keyword search, an indexed table of contents, VCR and slide controls and the ability for viewers to choose among variable connection speeds on the fly.
Where time or resources preclude the use of video, an audio-only presentation can easily be created by substituting a picture of the speaker in the video window.
The template layout, size of the video window, logo, color choices and buttons can be customized to your specifications.
For additional information and demos of customer applications, visit the Impatica OnCue product page.
Simply put, Impatica provides the ideal desktop tool for the creation and delivery of quality content using PowerPoint; a tool subject matter experts already know how to use.