Create Engaging Presentations that Work Everywhere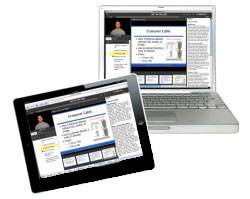 Impatica OnCue empowers you to deliver effective online communications quickly and easily. It provides a simple solution for the production and delivery of synchronized presentations that include:
Video
PowerPoint slides
Notes
Table of Contents
Supporting Material
All provided in a single easy to navigate, resizable, adjustable presentation.
Build Once and Deliver Everywhere
With Impatica OnCue, you can focus on your message, knowing that you will reach your entire audience with one solution. Playback is hassle-free, using HTML5 where available. That means that your users will get your message regardless of the web browser or platform they choose to use… even if it's an iPad.
"Using OnCue, we were able to create one version of our content for all devices without compromising quality. Impatica enabled us to run the iPad promotion, which was our most successful promotion ever."
Eric Bassel
Director, SANS Institute
Host Content Anywhere
Content can be published to your web server or delivered through your SCORM-conformant LMS. The choice is yours.
Update Presentations Quickly and Accurately
With built-in tools for identifying slide modifications, updating content and tracking changes, OnCue makes it easy to keep your content current and relevant.