Screen Projection Overview
ShowMate is a small, lightweight device to project PowerPoint presentations and screen contents wirelessly from a smartphone. Use the ShowMate to give wireless, real-time demonstrations and training of handheld applications and features. And of course the ShowMate still allows you to project high quality PowerPoint presentations right from your handheld.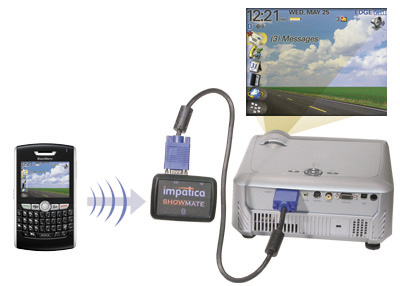 Simply attach the ShowMate to the VGA port of any projector or monitor and your handheld delivers your PowerPoint presentation wirelessly using Bluetooth technology. You can now roam the stage and interact with the audience to deliver a more engaging presentation, without being tethered to a laptop. In fact, you can now travel laptop free!
Connect the pocket-sized ShowMate to a projector or monitor and click on the Impatica Screen Projector application icon on your smartphone. The contents of your handheld screen are then transmitted to the ShowMate via Bluetooth or USB (BlackBerry only) and displayed on any VGA device, without noticeable delay.
The screen projection capability is included with ShowMate version 2.3.1 (2.4.0 for newer (e.g Tour) BlackBerry devices)or later for BlackBerry and 2.3.5 or later for Windows Mobile devices. It is compatible with all BlackBerry smartphones running BlackBerry device software 4.2.2 or higher and all Windows Mobile devices with Windows Mobile 5 or later.
To update your software, please refer to the following Getting Started Guides:
Learn more >>
.
The ability to project what's on the handheld screen is ideal for the following situations:
Sales demonstrations for the handheld platform or applications:
Show customers, quickly and easily, the benefits of the handheld and its applications.
Training on handheld platform and applications:
Reduce training time and costs with faster comprehension, higher usage by showing users exactly how to operate their handheld; step-by-step, with no delay.
In store displays and demos where customers can learn about the handheld:
Demonstrate handheld features with customers following along on a LCD monitor or plasma screen.