Registration for Impatica for PowerPoint
Your ShowMate CD-ROM includes Impatica for PowerPoint software that can be used to convert and transfer PowerPoint presentations to your handheld. If registration information was provided to you at the time of purchase, use that information to register your copy of Impatica for PowerPoint. Otherwise, complete the following form to receive registration information by e-mail.
The purchase of your ShowMate entitles you to register your copy of Impatica for PowerPoint as either:
Mobile Edition for use with Palm OS, Sony Ericsson, or Windows Mobile handhelds
BlackBerry Edition for use with BlackBerry handhelds.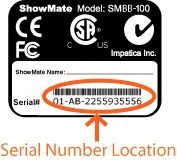 This form requires that you choose which edition you would like to have active as default. Please note that you may switch your copy of Impatica for PowerPoint between Mobile Edition and BlackBerry Edition views at any time from the File menu within Impatica for PowerPoint.
This form also requires that you provide the serial number of your ShowMate. The serial number is located on the underside of the ShowMate. Please enter it exactly as shown on your ShowMate. Once you have completed the form, the registration information will be sent immediately to the e-mail address that you provide.