Media Release
Impatica Named a Finalist for Wireless Leadership Award at WES 2009

View the award (.PDF)
Ottawa, ON, Tuesday, May 12, 2009—Impatica Inc., the industry pioneer in projection of PowerPontTM and screen contents from mobile devices, announced today that they have been recognized as a Business Impact Finalist at the 2009 Wireless Leadership Awards.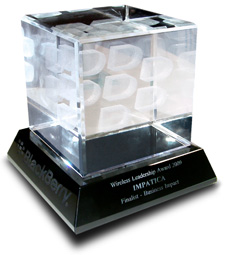 "Being selected as a finalist for the Wireless Leadership Award as a partner is an enormous accomplishment," wrote Research In Motion Co-CEO Jim Balsillie in a letter accompanying the award.
In an award ceremony that took place at the 2009 Wireless Enterprise Symposium (WES), Mr. Balsillie presented the Business Impact Finalist Award to Impatica. The award recognizes the value that Impatica's products have brought to their customer Standard Life. By using Impatica products Standard Life employees are able to extend their mobility by projecting their BlackBerry screen contents and PowerPoint presentations directly from their BlackBerry smartphones.
"Impatica's wireless solution stood out as an innovative use of wireless technology that had a demonstrated impact on your customer's organization," wrote Mr. Balsillie. "By addressing real challenges and producing tangible results, Impatica sets the standard for business leadership and customer satisfaction."
"We are thrilled to receive this award in partnership with Standard Life," said Michael Doyle, Chairman & CEO of Impatica. "To be recognized for the value that Impatica's products bring to our customers is truly a great honor."
Visit www.impatica.com for more information or to purchase Impatica wireless and desktop solutions..
About Impatica Inc.
Thousands of organizations including colleges, universities and corporations use Impatica products to communicate more effectively with hundreds of thousands of people every day. Impatica products enable full-featured PowerPoint presentations to be delivered to, and viewed on, Java-enabled computers and wireless handheld devices. In addition, Impatica ShowMate, the ultimate mobile presentation tool, enables the handheld screen and PowerPoint presentations to be projected directly from a wireless handheld device, eliminating the need to carry a laptop computer.
For more information:

Impatica Inc.
Michael G. Doyle
(800) 548-3475
(613) 736-9982 ext. 279
mdoyle@impatica.com
www.impatica.com
PowerPoint is a trademark of Microsoft Corporation. Impatica and Impatica ShowMate are trademarks of Impatica Inc. BlackBerry is a registered trademark of Research In Motion.